LARGEST GREENTECH EVENT IN THE REGION
GreenEST Summit brings together public and private sector experts, greentech companies and investors from the Nordics and Europe to discuss how to address the inevitable green revolution.
The largest green tech event in the Nordics

October 12-13, 2020 (pre-day on Oct 12th/ main day on Oct 13th)

Kultuurikatel (The Creative Hub), Tallinn, Estonia

Up to 300 Nordic startups, corporations, investors and other green tech enthusiast
We'll see you on October 12-13, 2020 at Kultuurikatel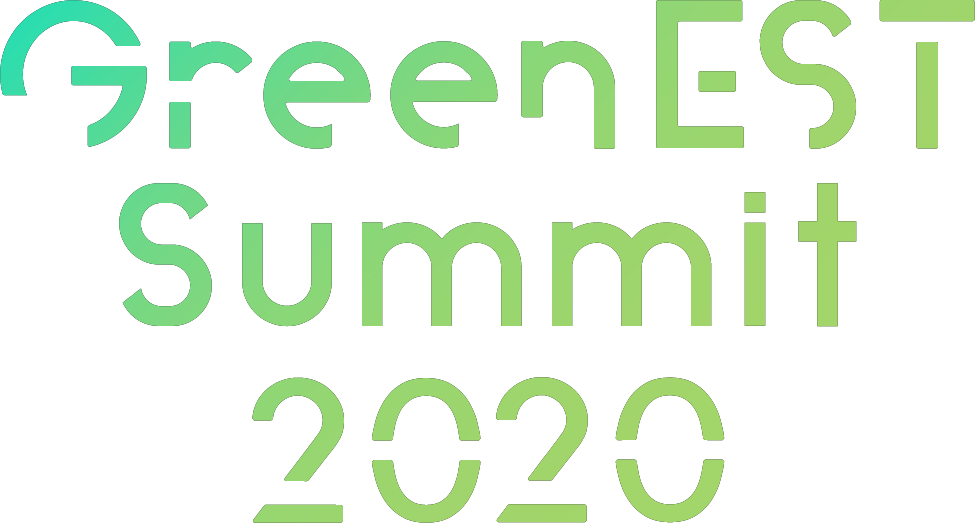 12:00 – Registration and coffee
13:00 – Opening words
13:10 – Program
17:00 – Final
9:00 – Registration and coffee
10:00 – Opening words
10:10 – Keynote: Green transformation
11:00 - Keynote: Sustainable energy
13:00 - Lunch
13:30 - Keynote: Smart city
14:10 - Demo area pitching competition
15:30 - Coffee break
16:00 - Keynote: Future food
16:30 - Winners of the pitching competition
17:00 - Final words
The 2019 GreenEST Summit was a success
Essential topics and latest developments
Meet the professionals of Mobility, Smart City and Logistics
Selected international speakers from relevant field
Public and private sector experts, city governments, companies and investors
Cherry-picked companies on the exhibition area
KERSTI KALJULAID
President of Estonia
President of Estonia Kersti Kaljulaid will open the GreenEST Summit 2019: Mobility & Logistics. The Estonian President is an active advocate for sustainability and halting the climate change.
GUNTER PAULI
Author (Belgium)
Gunter Pauli is an entrepreneur and author of The Blue Economy. He has been called "The Steve Jobs of sustainability". Others have called him the "Che Guevara of Sustainability".
The key points of his talk are:
We are inspired by Nature;

We do not believe in batteries;

The greatest emissions is sea transport, that is where we targeted the greatest impact;

The introduction of AI is the key.
EGERT VALMRA
Programme Director at Skeleton Technologies
"The impact and the means for energy recovery towards green logistics and mobility."
Egert is a hands-on tech guy working to figure out how to use ultra-capacitors and batteries to make logistics and transport green, sustainable and, probably above all, more cost effective.
NB! Mr. PAUL TASNER felt ill and unfortunately can not travel.
Learn about the hottest new trends. What is the future of mobility?
TOMAS KEMTYS
Investor at Contrarian Ventures (Lithuania)
Tomas Kemtys is a Partner at Contrarian Ventures having joined in February 2019. He is actively involved with a number of portfolio companies such as Bolt Bikes, CHOOOSE, Moixa, Switchee and Voltaware (to name a few). Previously, he was a Senior Associate at Centerview Partners, a leading independent investment banking and advisory firm. Having worked out of London, Tomas has focused mostly on healthcare and consumer retail but has also worked on transactions in energy, industrials and other sectors. ...
ÅSA LEANDER
Head of Sustainability & Brand Management, Greencarrier (Sweden)
With 12 years of experience from working in the Logistics industry Åsa has great knowledge in the field of international logistics. She has a special love for connecting sustainability to communication, brand and culture. Greencarrier is the Nordic region's largest privately owned Logistics company with offices in 10 countries and 950 employees. Their head office is in Gothenburg, Sweden and in Estonia Greencarrier employees about 35 people in Tallinn.
Keynote Speaker, topic Green Logistics: "The future of logistics is sustainable"
LOUIS ZEZERAN
The best host! Co-founders of Comedy Estonia (Australia/Estonia)

Australian Louis Zezeran is one of the co-founders of Comedy Estonia who lead the development of Stand Up Comedy in Estonia. Over the course of the last 6 years, Louis has established himself not only as a comedian but as a media personality, writing for Cosmopolitan magazine, hosting a show on "Raadio 2", speaking at conferences and hosting many private events where he brings his trademark enthusiasm and energy to ensure every guest is having a great evening.
APAAR TULI
Independent designer, lead product designer of Whim (Finland)
Apaar Tuli is an independent designer from Helsinki with a background in user-centered design, architecture and urban planning. As the lead product designer of Whim, he has been closely involved in designing for the world's first Mobility as a Service platform. Previously, he has designed a range of products and services at Nokia Design and Microsoft Design studios.
Apaar is a passionate traveller. He has directed two ethnographic documentaries shot in some rather unvisited corners of the world - and then screened in various film festivals across Europe. He also happens to be an year-round cyclist in Helsinki's sun and snow.
JONAS STRÖMBERG
Director of Sustainable Systems at Scania (Sweden)
Mr. Strömberg is responsible for co-ordinating Scania's activities on Sustainable Transportation for buses and trucks. He has previously led environmental departments at the Arlanda Airport, at the Stockholm Public Transport and at the Swedish Railways & GreenCargo.
At Stockholm Public Transport, Mr Strömberg was responsible for setting up the World's largest fleet of heavy duty non-fossil fuelled buses. Mr. Strömberg is a member of EU's expert group on advanced sustainable fuels. HE has served as President of the Fuels Cell Bus Club. Mr. Strömberg frequently lectures internationally on sustainable transport. Mr. Strömberg is an undefeated champion in the TV quiz show "Jeopardy".
Keynote Speaker, topic "Mobility & Logistics Future"
JARKKO JAAKKOLA
Area Manager, Finland & Baltics
MaaS Global (Finland)
Jarkko has Master of Science degree in automotive engineering, minoring in marketing and is a car enthusiast. He has worked for close to 20 years in Intelligent Transport Solutions (ITS) sector in both public and private sector projects so despite his age, he can be considered a dinosaur in the ITS sector already. Jarkko is currently Area Manager for Finland and Baltics in MaaS Global and has previously been CEO of a Norwegian tracking company's subsidiary in Finland and has held positions both in sales and product management.
MARTIN RAADIK
Charging Equipment Sales Manager Electric Transport (Estonia)

Martin calls himself an e-mobility evangelist and his passion is to promote the spread of electric cars in Estonia through the development of charging infrastructure. He has been exposed to electromobility before, as he led tens of millions of euros in projects for German battery giant Samsung SDI.
KRISTJAN MARUSTE
CEO and founder of CoModule
... a startup that connects smartphones and e-bikes and stores data in the cloud. The founders of COMODULE first came together a Tallinn University of Technology in a project called Formula Student where they developed and built fully electric racing cars and competed against other universities around the world.
MARGUS VIHMAN
Port of Tallinn Management Board (Estonia)

Margus Vihman has served as a member of the Port of Tallinn management board since 2016.
He is in charge of commercial activity – customer relations and sales. During his management several infrastructure projects and smart solutions improving port services have been implemented.
" I haven't really seen a better conference on the future of buildings in 20 years. And I'm not saying that for the sake of being friendly."
" Modern and innovative conference. Interesting exhibition area companies. and a superb moderator."
Project Engineer at Environment Office, Finland
" Very strong speakers. There were 14 building managers in our delegation and they were all overwhelmingly pleased."
Project Manager at Vidzeme Planning Region, Latvia

You'll walk away with new knowledge and connections to take your business to the next level.