THANK YOU AND SEE YOU NEXT YEAR!
The GreenEST Summit is organized by the community.
More than 15 organizations joined forces.
Essential topics and latest developments
Meet the professionals of Green transformation, Renewable Energy,
Smart Eco-City and Future Food.
Selected international speakers from relevant field
Public and private sector experts, city governments, companies and investors
Cherry-picked companies on the exhibition area
12:00 – Registration and coffee

13:00 – Welcome and Opening Words: Erki Ani, CEO at Cleantech ForEST
13:10 – Startup Engagements and Digital Experimentation at Stora Enso: Antti Vuolli, Vice President, Digital from Stora Enso
13:40 – Innovation and Venturing at Fortum: Mikael Myllymäki, Head of External Venturing at Fortum
14:10 – Networking and coffee break
14:40 – Open Innovation at Ericsson Smart Manufacturing: Martin Karu, Manager of Software Engineering at Ericsson
15:10 – Panel discussion with Startups / Bikeep, Timbeter, VITS, Aiotex
16:00 – Panel discussion with Corporations / Stora Enso, Fortum
17:00 – End of the first day of the program
17:00 - 18:30 Reception at Kultuurikatel / snacks & drinks will be served

NB! There will be no live broadcast on October 12th.
9:00 – Registration and coffee
10:00 - Opening Show
10:10 – Opening words: H.E. Özlem Canel, Ambassador of the Kingdom of the Netherlands to Estonia
GREEN TRANSFORMATION
10:20 – Online keynote: Todd Khozein, Founder and Co-CEO of SecondMuse
10:50 - Panel discussion moderated by Ragmar Saksing
11:25 - Exhibition area Live broadcast to Main Hall
SUSTAINABLE ENERGY
11:35 - Online keynote: César Alejandro Hernández Alva, International Energy Agency
12:00 - Panel discussion moderated by Kristi Klaas
12:43 - Exhibition area Live broadcast to Main Hall
12:50 - Lunch
SMART ECO-CITY
13:40 - Introduction - Madis Tilga, Adviser at NORDEN
13:45 - Online keynote: Esa Nikunen is the General Director of the Environmental Services of Helsinki City
14:05 - Online keynote: Ryan Weber
14:25 - Online keynote: Ditte Ronde Veise
14:40 - Demo area pitching competition
14:45 - Panel discussion moderated by Madis Tilga
15:30 - Coffee break
FUTURE FOOD
16:00 - Online keynote: Afton Halloran, Sustainable Food Systems Transitions
16:20 - Exhibition area Live broadcast to Main Hall
16:25 - Panel discussion moderated by Triin Ilves
17:00 - Pitching contest voting
17:20 - Final words
GreenEST Summit

was held for the third year in a row.

The work is in progress, new speakers added weekly.

2020 featured speakers

were...



Learn about the hottest new trends. What is the future of green technology?
H.E. Özlem Canel
Ambassador of the Kingdom of the Netherlands to Estonia
Özlem Canel entered the Netherlands Ministry of Foreign Affairs in 1998 and worked in junior positions at the UN Department, the Consular Department and the Asia and Pacific Department. Her postings abroad were in Brussels (2004-2008) and Sarajevo (2008-2009). She was the spokesperson for the Minister for European Affairs (Frans Timmermans) and Deputy Ambassador in Baku/Azerbaijan (2013-2015) and Helsinki/Finland (2015-2020). Since August 2020 she is Ambassador to Estonia. Mrs Canel holds a Master degree in Law from the University of Amsterdam.
TODD KHOZEIN
Founder and Co-CEO of SecondMuse (New York, USA), online keynote
SecondMuse is an impact and innovation company building resilient economies by supporting entrepreneurs and the ecosystems around them. Under Todd leadership, the company has designed and implemented programs on all 7 continents with over 600 organisations such as NASA, The World Bank, Nike, USAID, The World Health Organization, and The Rockefeller Foundation.

The company is a manifestation of Todd's impassioned belief that economic and social systems can be built inclusively and not at the expense of human dignity or the health of the planet. To test his theories and gain a deeper understanding of how to build and execute better systems, Todd earned a medical degree from the University of New Mexico, spent years developing a range of businesses, and co-founded SecondMuse in 2008. He's proud to serve on the Board of Directors of TechSoup Global and The Circulate Initiative.
CÉSAR ALEJANDRO HERNÁNDEZ ALVA, PhD
Senior Energy Analyst at International Energy Agency (Paris, France), online keynote
Cesar Alejandro Hernandez is the head of the Renewable Integration and Secure Electricity Unit at the IEA. Mr Hernandez joined in 2017 to work in Electricity Market Design, Electrification and Power sector Decarbonisation strategies. Before he held the position in the Mexican Government as Managing Director for Analysis and Market Surveillance, where he participated in the design and implementation of the Power Sector Reform. Prior to this position, he was an advisor to the Finance Vice Minister in Mexico in energy and environmental issues. From 2007 to 2011 Mr Hernandez was Deputy Chief Economist, at Comisión Federal de Competencia, the Mexican Antitrust Authority.
He holds a PhD in economics by the University of Toulouse in France, and a BA in Economics by the ITAM.
ESA NIKUNEN
The general director of Environmental Services. The city of Helsinki, online keynote
Esas work involves Environment Protection, Environmental Health, and Food & Veterinary Safety.
Esa worked previously as a Director in the Finnish Safety and Chemicals Agency where he was responsible for Chemicals Control. Before he worked 20 years in different leading roles in the Finnish Environment Institute covering the whole field of environment protection. He has been active in international cooperation (e.g. Nordic Council of Ministers, OECD, EU and UN).
Esa is a limnologist by training and he has a long career dealing with hazardous chemicals and the environment. He lives part of the year in the archipelago of Gulf of Finland. Believing that the cities play a major role in saving the world, Esa wants to keep Helsinki in the frontline in solving environmental problems. Currently, for example, climate issues are high on his agenda.
AFTON HALLORAN, PhD
Independent Consultant in Sustainable Food Systems Transitions
(Copenhagen, Denmark), online keynote
As an independent consultant, she has been advising intergovernmental organisations, international organisations, companies and NGOs on issues related to sustainable food systems such as the future of food, the social impacts of food production, food culture/gastronomy and sustainable diets. She is also an External Consultant to a project called the Nordic Food Policy Lab under the Nordic Council of Ministers. One of her biggest accomplishments has been leading the development of the Solutions Menu: A Nordic Guide to Sustainable Food Policy, a publication that is now in the hands of many influential policy-makers around the world.
Erki Ani
CEO at Cleantech ForEST
Cleantech ForEst, CEO Erki comes from Estonia, leading there the growth of innovative sustainable businesses. He has background in environmental technology, environmental management and engineering and business administration. With experience in cleantech entrepreneurship in the Netherlands since 2015 while practicing business management and initiating his first startup, he has been since helping numerous innovative ideas turn into real businesses. Erki has good industry knowledge as he was previously advancing the adoption of renewables at the Estonian Renewable Energy Association. Since becoming the CEO for Cleantech ForEst he has been organising and running many initiatives aimed at developing the Estonian cleantech startup sector as well increased the scope of Cleantech ForEst's network nationally and internationally in the US, Asia and Europe. Erki is responsible for keeping track of Estonian cleantech startups' scene and very motivated to find best possible support mechanisms for promising startups as well as environmental awareness and sustainable development in general.
IVAR KRUUSENBERG, PhD
CEO and Co-Founder at PowerUp Energy Technologies, Scientist (Tallinn, Estonia)
After a long career as the University of Tartu scientist, he is now applying his knowledge in clean-tech entrepreneurship. He continues to do science at the National Institute of Chemical Physics and Biophysics as a senior researcher.

TIMO TATAR
Deputy Secretary General for Energy at Ministry of Economic Affairs and Communications of Estonia.
(Tallinn, Estonia)
He has previously served as Head of Energy Department in the same ministry. Before joining the public service in 2012, he was heading power generation development projects in Eesti Energia. He has also worked for State Real Estate Ltd. and Fortum. Timo Tatar (born 1982) holds a Master's degree in Thermal Engineering from the Tallinn Technical University (TalTech).
MARTIN KRUUS
Adviser and founder of Sunly; Vice-Chairman of the Estonian Innovation Policy Commission​ (Tallinn, Estonia)
Holds a MSc degree in Thermal Engineering and has been involved in the renewable energy sector since 2000. Previously CEO and one of the founders at Nelja Energia that was the the biggest wind energy producer in the Baltic States before being sold to Eesti Energia's daughter company Enefit Green in 2018. Previously the Chairman of the Board in the Estonian Wind Power Association and Commissioner of the Estonian Renewable Energy Association. During 2002-2004 Head of Renewable Energy Unit in Eesti Energia. During 2000-2002 renewable energy consultant.
KRISTI KLAAS
Deputy Secretary General, the Ministry of the Environment of Estonia (Tallinn, Estonia)
Kristi Klaas is responsible for organising the development and implementation of climate change mitigation and adaptation and strategic planning policies, organising the Ministry's budgeting and financial reporting, and organising the use of foreign funds.
TRIIN ILVES
Community and Programme at Tehnopol Startup Incubator
(Tallinn, Estonia)
As the Community Manager at Tehnopol Startup Incubator, Triin focuses her work activities to contribute to the startup ecosystem in Estonia. She takes some of the first steps with early-stage founders from idea to first investment and contributes to various projects with local and international ecosystem partners. As a startup community member, Triin has been the head and co-organiser of Startup Week Tallinn 2018 and 2019.
ANDRUS TREIER
CEO at Environmental Investment Centre KIK (Tallinn, Estonia)
Andrus is Experienced Leader with a demonstrated history of working in the financial and public services as well as the logistics industry. Skilled in Leadership and Analytical Skills, Banking, Venture Capital and Risk Assessment. Former CISA, CPA. Strong professional with a Master of Business Administration (MBA) focused on Strategic Management from the University of Tartu.
LIISA PUUSEPP
Adviser for Environmental Awareness, Ministry of the Environment / Researcher at Tallinn University (Tallinn, Estonia)
Liisa Puusep has a background in ecology and in addition to water ecosystem studies she has been focusing in her research on education for sustainable development and environmental awareness. At the same time she is working in the Ministry of the Environment and has taken the challenge to contribute to the environmental awareness of the society. Additionally, she has an exciting connection with food - she also studies honey and its pollen content.
MADIS TILGA
Environmental Awareness Adviser, Nordic Council of Ministers (Tallinn, Estonia)
Madis Tilga have been working with sustainability issues for some time now, initiating and executing co-operation projects between Nordics and Baltics. Much of the work has evolved around the transition to bio-economy and circular economy. He would argue that this simply is a quest for making our economies healthier and more resilient. Not that much environmentalist approach. Nature does not need economy but we do and the economy needs all these diverse ecosystem services. So it is about economy. Cities have often taken the centre stage in these developments as they are natural innovation drivers, take climate leadership and need to be creative to accommodate growing urban population in a wealthy and healthy way. Madis is very passionate about modern city planning, how attractive places are created cityscape continuously re­­-invented. His other engagement is with social start-up Nutriloop, where they design carbon and nutrient looping solutions for growing healthier food and divert massive amounts of carbon from air (where it poses problem) to soil (where it adds value).
SIIM RAADIK
Chief Technology Officer at Nutriloop (Tallinn, Estonia)
With an Engineering and a Farming degree, he is helping to yield Circular Food Systems through technology. Siim is also a serial Entepreneur. Has a background in Industrial Production and urban mushroom cultivation in Vertical Farms.
"I believe Regeneratively grown food is a new default in 2040. This means outdoor Production Agrculture does a flip from intensive farming practices to focusing on the Soil Food Web to do it's part - growing Healthy Food and Offseting Carbon. Nutriloop is here to see it through by providing solutions for, starting with the catalyst, food waste and awareness."
RAJEEV BHAT, PhD
Professor (and ERA Chair holder in Valortech) at the Estonian University of Life Sciences (Estonia)
Rajeev Bhat has an extensive 'Research and Teaching' experience of more than 20 years in the field of agri-food technology, with his research expertise focusing mainly on various issues pertaining to 'Sustainable Food Production' and 'Food Security.' He holds International work experiences in India, South Korea, Malaysia, Germany, Fiji Islands and now in Estonia. Till date, he has nearly 200 research articles published in ISI based journals and as refereed book chapters; has edited 06 books and authored one book; is in the editorial board of leading International journals; and has been the scientific committee member and invited speaker in various international conferences. He is also a recipient of several prestigious international awards and recognitions conferred by various institutions of higher learning and research establishments.
MIHKEL KAEVATS
Leading specialist of the Strategic Planning Department of the City Financial Service of the Tallinn City Office (Estonia)
Mihkel Kaevats is an Estonian poet and a city activist, now the strategy writer for Tallinn 2035. Focusing in achieving a human-centered change in city space, mobility and sustainability, Tallinn 2035 has been an organization-wide effort to compile an ambitious big picture for the whole Tallinn city region. In private life, he is a passionate city cyclist, an inspired maker of walks and a devoted fan of his dog.
ANNELI TEELAHK
Senior Policy Officer
The European Association for Storage of Energy (Brussels)
Anneli Teelahk is Senior Policy Officer at EASE - The European Association for Storage of Energy. She joined EASE in August 2019 supporting the advocacy efforts on storage in the EU electricity network codes, the 'Clean Energy for All Europeans' Package and in energy storage technologies. She has experience in the energy sector for 4 years having been dealing with EU energy policy issues over 3 years. Before joining EASE she worked as a lawyer in the Estonian electricity and gas transmission system operator Elering advising on energy market regulation, state aid and data protection. She holds a MA in Law from University of Tartu.
Ryan Weber
Senior Research Advisor at Nordregio
Ryan has been Senior Research Advisor at Nordregio, where he has worked for the past 11 years. His research and advisory expertise lays at the intersection of society and urban space, to develop more people-friendly and attractive cities that simultaneously support the pursuit of climate and environmental goals. He uses multidisciplinary research and analytical approaches to focus on land use patterns, public service distribution, housing development and greenspace planning and design. Using these research processes, he works with urban planners to develop their own planning tools to support sustainable urban development initiatives both in the Nordic Region and throughout Europe.
Antti Vuolli
Vice President, Digital, Stora Enso
Antti is driving digitalization and Stora Enso's digital agenda globally. Running Digitalisation and New Services unit. He is also managing group level funding for digital experimentation and startup engagements.
Mikael Myllymäki
Head of External Venturing at Fortum
Mikael Myllymäki heads the external venturing team at Fortum, a Finnish clean-energy company developing and offering solutions for our customers in electricity, heating, cooling, as well as solutions to improve resource efficiency. He is responsible for the company's engagement with external startups through pilots, investments and divestments, as well as VC fund investments.
LOUIS ZEZERAN
The best host! Co-founders of Comedy Estonia (Australia/Estonia)

Australian Louis Zezeran is one of the co-founders of Comedy Estonia who lead the development of Stand Up Comedy in Estonia. Over the course of the last 6 years, Louis has established himself not only as a comedian but as a media personality, writing for Cosmopolitan magazine, hosting a show on "Raadio 2", speaking at conferences and hosting many private events where he brings his trademark enthusiasm and energy to ensure every guest is having a great evening.
RAGMAR SAKSING
Greentech sector leader, Entrepreneur in the field of technology (Tallinn, Estonia)
Ragmar Saksing is a marine biologist by education but have been operating in the field of technology for more than 18 years. He is serial entrepreneur. Mainly has served as CTO at startups and enterprises. He works for Tallinn Science Park Tehnopol as Greentech Sector Manager.
MARTIN KARU
Manager of Software Engineering at Ericsson
Martin's background is technical: full-stack developer, Systems Analysis, Machine Learning and Data Science. Now working as a manager, he is focusing on delivering Industry 4.0 solutions to manufacturing and introducing the data-driven mindset to all parties involved.
You'll walk away with new knowledge and connections to take your business to the next level.

" Very strong speakers. There were 14 building managers in our delegation and they were all overwhelmingly pleased."
" Modern and innovative conference. Interesting exhibition area companies. and a superb moderator."
" I haven't really seen a better conference on the future of buildings in 20 years. And I'm not saying that for the sake of being friendly."
Project Manager at Vidzeme Planning Region, Latvia
Project Engineer at Environment Office, Finland
16 organizations have joined forces to organize the greenest Summit 2020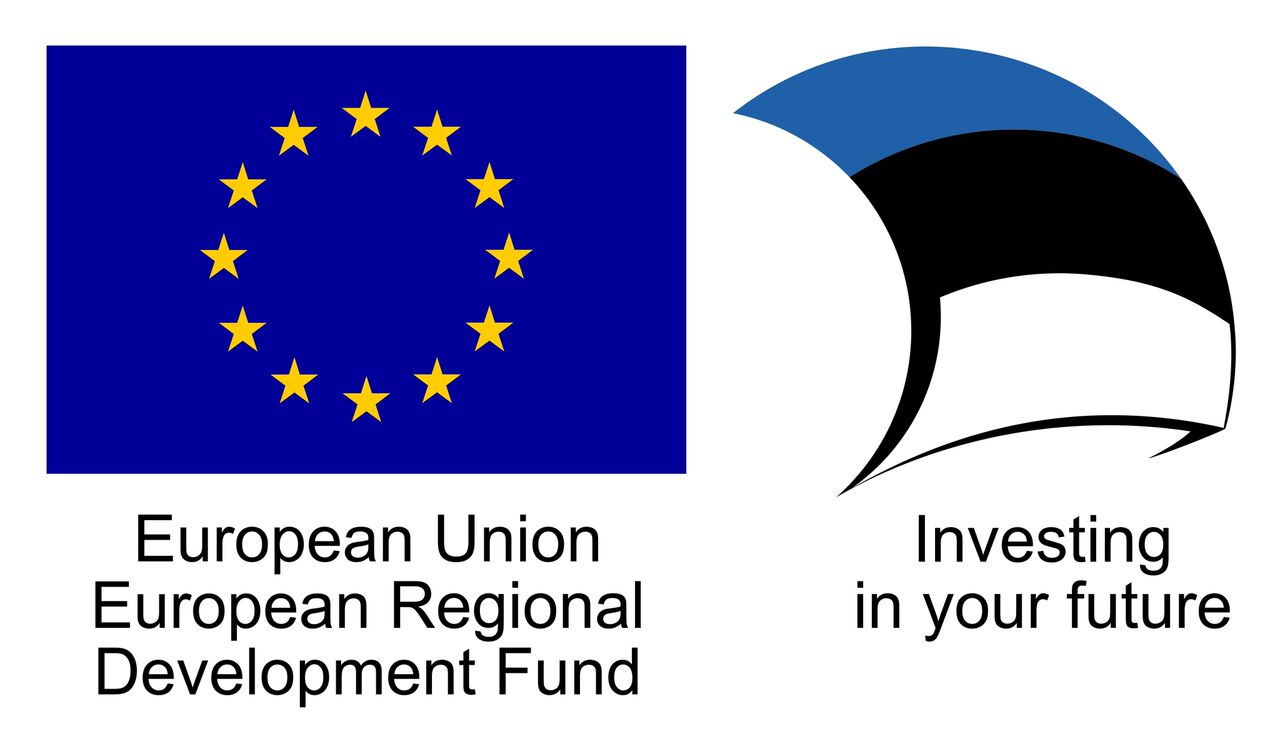 This event/program is financed by the European Regional Development Fund according to the program Startup Estonia (EU50651)